Electrical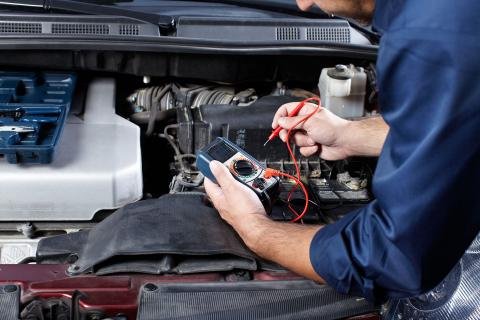 The electrical system in your vehicle is like the nervous system in your body...sensors generate impulses that are distributed, then processed, and those processed impulses are sent to some other area to display information, actuate another sensor or mechanical device, or provide power for device operation.
Electrical starting systems
In the early days of the automobile, the only electrical system was to allow the engine to operate. Later, lighting was added, and the more expensive cars received electrical starting systems.
Today, electrical systems are extremely complex and interface with every other system in the vehicle. There are several computers, many different types of displays, interior and exterior lighting, engine and transmission management...even steering is controlled electrically in most new cars. So, it's critical that your electrical system be in perfect operating condition at all times.
Electrical components
The list is too long to put here, but some of the major electrical components are: battery, battery cables, alternator, voltage regulator, ECM or PCM, CCM, Climate Control, Anti-lock Brake Controller, Airbag computer and actuators, Entertainment systems, GPS, OnStar, switches, sensors, window actuators and all wiring.
When you're feeling powerless about one of the systems in your vehicle, give us a call and we'll set up an appointment for a complete electrical diagnosis of the trouble area. We want you to know that we will do everything possible to repair your system and get you back on the road. Our goal is your complete satisfaction...that's right, we're wired that way!
I want to hear from you if you have any questions, or are not satisfied with any part of the service experience. Please call me at (303) 954-9031 if you need an appointment, or to let me know about the quality of your experience. It's my goal and responsibility to provide you with the very best service and vehicle care possible!
At Vogel Auto & Diesel, your complete automotive care center in Castle Rock, CO we install only quality replacement parts. Give us a call and let us help keep you safely and economically on the road. We serve Castle Rock and the surrounding areas.