Shocks and Struts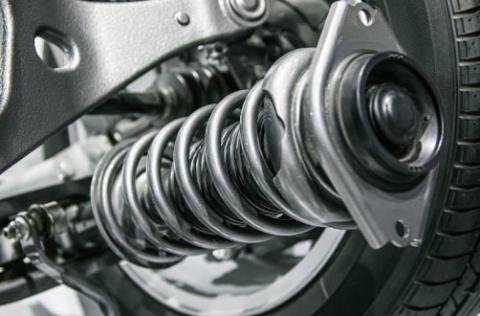 Shocks and struts are pneumatic or hydraulic cylinders that dampen ride motions and keep your tires firmly in contact with the road. They are critical to the safe operation of your vehicle, as they control the up and down motions you experience while driving down the road. We've all seen a car "bouncing" over slight bumps that we don't even feel...that vehicle has completely worn out shocks, and is unsafe on the road due to a lack of steering control!
Ride and handling
Different vehicles will use different shocks or struts depending on their function. A sports car owner, wanting a firmer ride, will have shocks with less travel and higher pressures; a luxury car will have shocks with long travel and a longer cycle of dampening.
The suspension system affects your vehicle's steering, braking power and stability, so it's important to have these functions inspected regularly and to replace parts when they become worn—and dangerous! Vogel Auto & Diesel has quality shocks and struts that fit your style and budget and that feature a competitive, limited lifetime warranty. It's also important to have other chassis items, such as tie-rod ends, control arms, and ball joints, checked periodically.
Adjustment or repair
Because these parts are usually hydraulic, any signs of oil can mean the shock or strut is leaking, and beginning to fail. Excessive motion is also an indicator that a shock or strut has failed. With pneumatic systems, a lack of adjustment, or a vehicle that leans at rest is an indication of a need for adjustment or repair.
Keep in mind, that if you don't like the feel of your shocks and struts, our service advisor can recommend aftermarket units to change your ride. Smoother, or firmer...we can even set you up with an airbag system that can keep your vehicle level, or increase your vehicle's load carrying ability!
Get in touch with us at the first sign of suspension weakness. Control of your vehicle is determined by these components, as well as the safety of those inside.
At Vogel Auto & Diesel, your complete automotive care center in Castle Rock, CO we install only quality replacement parts. Give us a call and let us help keep you safely and economically on the road. We serve Castle Rock and the surrounding areas.